Oh Snapchat. The photo/video-sharing platform beloved by many a teen and twenty/thirty-something clinging to youth.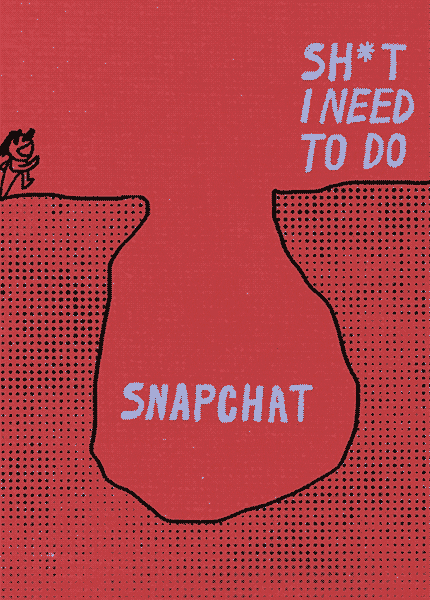 The rise of Snapchat amongst millennials has truly been a thing of beauty, with the success largely due to the genius of CEO Evan Spiegel's uncanny ability to tap into what young people really want out of the ever-changing social media landscape. Unfortunately for Snap Inc., a lot has changed since the initial launch in 2011, and due to some shameless reverse engineering, larger and more powerful platforms like Facebook and Instagram have essentially stolen the multi-million-dollar idea making the legendary 'Stories' a common feature across social media networks. Couple this with the recent fall in stock value, and you have plenty of analysts and fancy business people claiming that Snapchat is either dead or dying.
     But despite disappointing evaluation numbers, other analytics are in Snap Inc.'s favour.  For example, according to App Annie 46% of Snapchat users cannot be found an Instagram  – Snap's main competitor for the stories feature. What's more, one study  of high school and college age students indicated that 78% of young people use Snapchat every single day, beating both Instagram (76%) and Facebook (66%). The bottom line is that young people (i.e. the future) still use Snapchat, and in fact, are seemingly unbothered by the similarity of the 'stories' feature on Snapchat vs. Instagram. Many users feel that while their Instagram story needs to be curated and 'high-quality', Snapchat offers a casual and more personal experience meaning that there is potentially room for both in the market.
       With the youngest social media users still avid Snapchat fans, it would be crazy to discount them. And despite not having Facebook's world-domination potential, they do have Spiegel, who has proven to know what we want before we even know we want it. Really, Snap Inc. just needs to adapt. Innovate. Build on what they've started to differentiate themselves from the other giants. And if we've learned anything from the rise of Netflix, Uber, and Airbnb it's that if companies don't innovate and capture the younger audience, they risk a painful death.
       Snapchat's ability to come up with something new (rather than resorting to blatant thievery – Instagram) that captures the attention of the under-20s should not be underestimated. So don't give up on Snap just yet. Personally, I'd be more worried about the aging Facebook demographic.
---
Do you prefer Snapchat, Instagram or Facebook? Do you think that Snap has a chance of surviving in the long run?